The Jesse Tree: Free Printable Ornaments and Devotional (Updated for 2014)
A few years ago…
We were given an advent devotional. It's called a Jesse Tree. The idea behind the Jesse Tree comes from a verse in Isaiah referring to Jesus as the Branch who would come from the stump of Jesse. The Jesse Tree is a collection of ornaments, explanations, and scripture verses that illustrate God's plan to bring Jesus into the world from the very beginning of the Bible. Here's what ours looks like.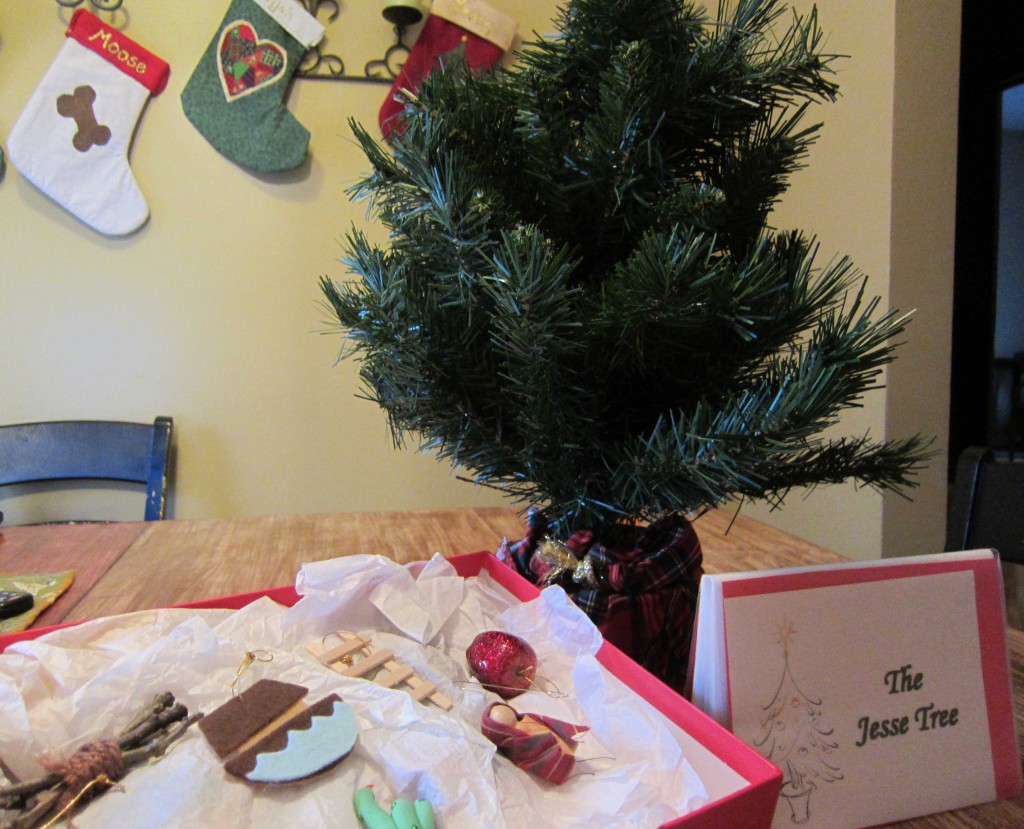 We love using our Jesse Tree. During the 24 days before Christmas, we sit in the living room before bedtime, read the devotional, and place an ornament the small tree. Our set consists of 3 dimensional ornaments that were handmade for us, and a little photo album containing the devotional passages.
And ever since getting ours, I've wondered how I could efficiently and inexpensively get this tool into the hands of other people. People who also want to walk their family through scripture over the 24 days leading to Christmas. Most of the ways I came up with required more overhead than I wanted to deal with.
*** Please note. If you are reading this after December 1st don't let that keep you from trying it out. You can always do a couple of ornaments in a day to catch up. 🙂
But finally, I figured it out…
I decided to do it digitally. I have designed printable ornaments. There are two on each 4 x 6 inch photo file. Simply download them* and send them to a local photo lab (Walgreens, Costco, etc). It will cost you anywhere from $1.50-$3.00. I chose to do it this way because it's a cheap easy way to get color printing on a nice weight paper.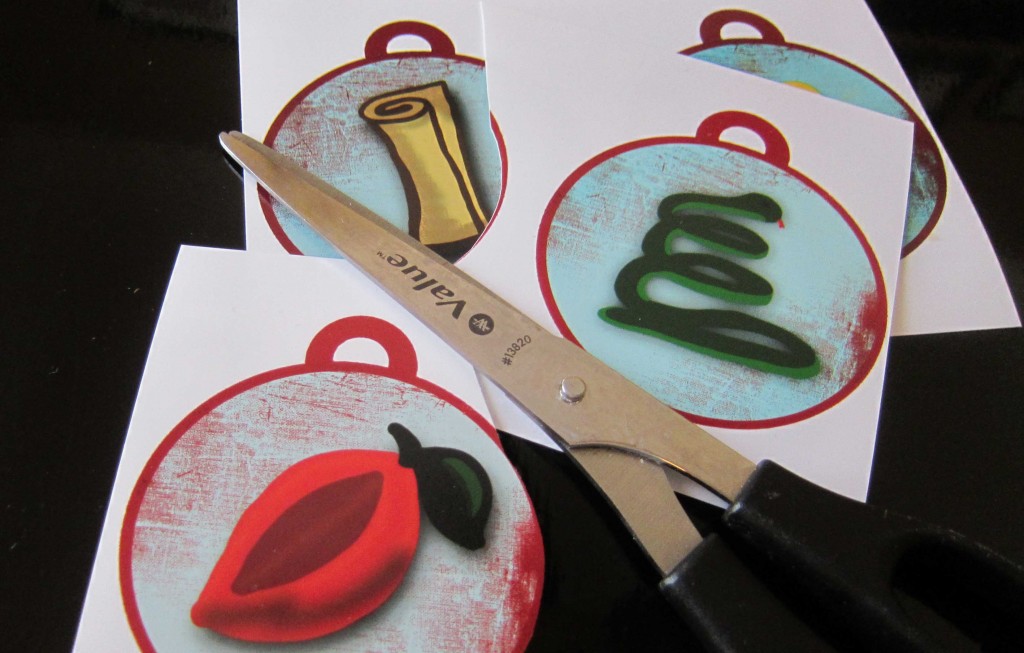 Once you have them you can cut them and use them as is. Or, with just a little more work, you can cut and laminate them to create a little longer lasting product. (I even mounted my set on scrapbooking cardstock before laminating.) Since they're printed as photos, you could even choose to decoupage them onto something without the ink running. You could also back them with felt.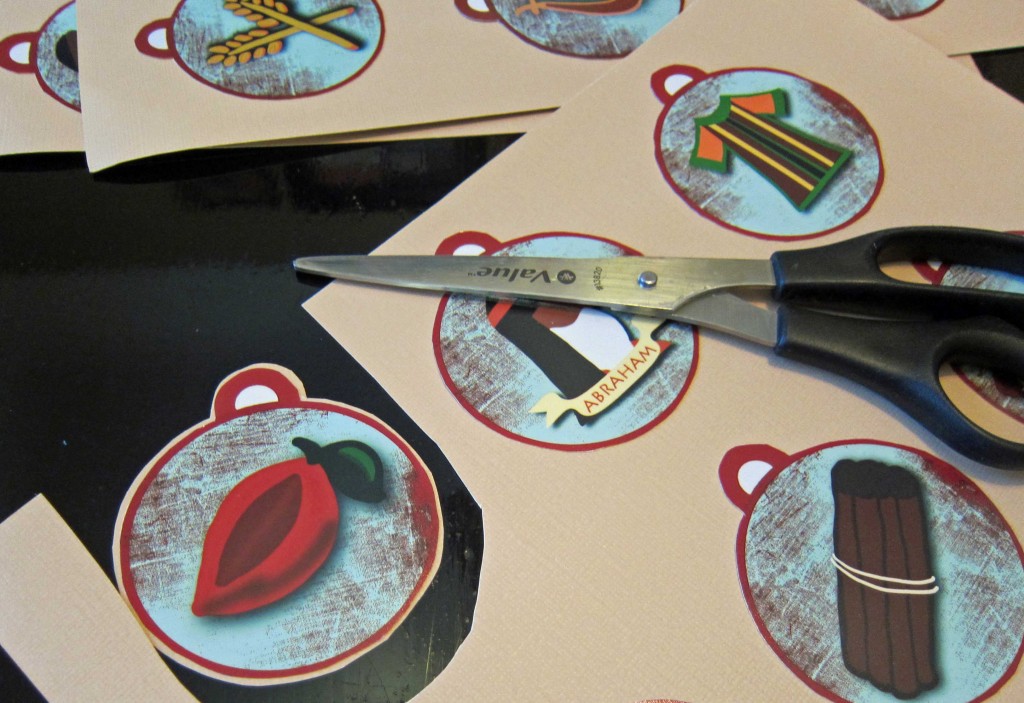 I have also written a devotional book to accompany the ornament set. It is available as a PDF for you to download* and print. I created two files. One is a basic text/document format (2 days/page), and one formatted to print front and back as a folded booklet.
Please note…
I did not come up with the concept of a Jesse Tree, it's been around quite a while, and ornaments sets will vary slightly. But, this is the version I prefer. The booklet is my original text and the ornaments are my original drawings. (Just wanted you to know I didn't steal it.) I have created this to be shared.
*Downloads are located at the bottom of this post. Click on the images to enlarge, then right click to save.
I cannot efficiently provide you with a tree…
But I can give you a few different ideas. You can buy a small table tree like we have. Trees like ours and other styles are available at a variety of stores. You could also place the ornaments right on your big tree. I also brainstormed and researched some other ideas for you and created a board on Pinterest. Check it out here. Some of them are really cute! If you find a great idea for one let me know and I'll add it to the board.
Want a completed set? (Contest Closed, Sorry.)
Of course, I had to make a sample set of the ornaments—just to make sure they would work out. I printed mine, cut them, and mounted them on cardstock. Then I laminated, hole punched and put cording through them. Since we already have a Jesse Tree set—I am going to give this set away.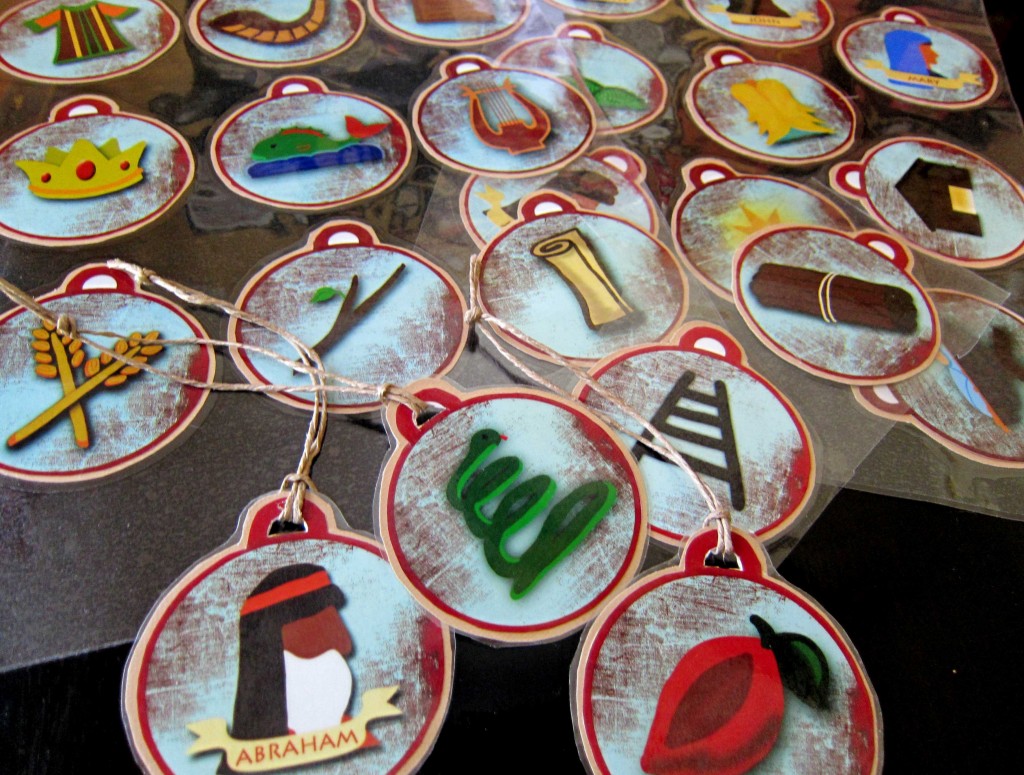 If you are interested in winning this set leave a comment letting me know here, or on Facebook, or email me at brightshinythings@fenlason.net.  Oh, I suppose you could also tweet me? I'm trying to get into the whole twitter thing– @JenGogh.
I will close the giveaway at midnight on November 21st and randomly select a winner on the 22nd. I know that's a small window for the giveaway but I want to have enough of time to get them to the winner before December 1st (the day you start the book.)
***Please note: The giveaway is closed and a winner has been notified. Thanks!***
I think this is one of my favorite posts on the site. I have put so much time and effort into this because I think it is such a valuable tool for families of all ages. Please share this with anyone you think may be interested.
If you make one using my set I'd love, love, LOVE to see a picture. So please email or tweet or facebook me photos of your trees. Please contact me if you have any questions on how to use this or download it.
This tool is a blessing to our family and I pray it will be a blessing to yours as well.
Jenny
The Ornaments