As one of the earlier media outlets to cover this coloring phenomenon that we (my friends and I) have unexpectedly found ourselves a part of, I want to send you a letter of gratitude. I know this letter is a bit tardy in coming—I've had a big chunk of life land my plate recently and it's been taking quite a bit of my time. It should be noted, however, I am getting this out much sooner than I did my wedding thank yous. So, yay for me, I got marginally better at something over 13 years.
Back to the load of thanks I would like to bestow upon you–in response to the load you have offered to the masses. I am going to systematically go through your article and offer up my thanks on various points.
We will begin with the title.
Thank you for giving the Ladies Coloring Club a cult status."The Cult of Crayola" is what you called it. Thanks for capturing the true spirit of what is going on here. Although, I wonder, which definition were you implying for us. Religious beliefs regarded as strange or sinister? Or, misplaced or excessive admiration? Either one is fine, and I've decided it's the perfect excuse to serve and drink Kool-Aid. Next we will seek to build a remote compound—probably moving our families and loved ones in with us. I think we will don tinfoil hats for good measure.
Calling me out as a cult leader has given me cause for introspection, and I'm always in favor of self-evaluation. I discovered that Psychology Today has an article on Dangerous Cult Leaders. In an effort to check myself, I read through the 50 qualities of a pathological cult leader. I only have about 40 of the characteristics, maybe 45 if it's pre-coffee on a Monday, either way I'm well in the safety zone, wouldn't you say?
Thank you for introducing me with the phrase "Meet the Woman." It was so clever of you to write that in a way that would imply you yourselves had met me, or spoken to me, or emailed me, or Facebooked me, or had any connection with me whatsoever. (And hold on to that Facebooking thought—I owe you a thanks on that as well.) I suppose I owe a similar thanks to New York Magazine, but they will not be receiving a letter because they did not bestow as many gifts upon me as you did. They too had the element of surprise (no prior contact) but they were so very stingy with the embellishments/misrepresentations. How tactless.
Thank you for emphasizing "judgment free zone"—it proves that you at least skimmed my original post, and found an agenda-like quote. Cults should have agendas. Why else offer the Kool-Aid? I do like how it makes me sound so much more open minded than I really am. It also helps affirm in my heart that I am not a dangerous cult leader (since being judgment-free would seem incongruous with quality number 13 on the list, "Makes members confess their sins or faults publicly subjecting them to ridicule or humiliation while revealing exploitable weaknesses of the penitent." (Complete article here at Psychology Today.)
I believe that's all of my thanks in regards to the title. I won't bother mentioning that we don't meet weekly.
Now, we move on to the body of your piece, where I also have many thanks to offer you.
Thanks for implying we are a group of New York women. One can never be too careful when leading a cult. You don't want scary people following you around (and I mean that in the least judgy way possible, of course.) It's good to throw people off the trail a bit. I mean, people have to really search when they're on my blog to get any idea I'm not in New York. It's not like I have the word Minnesota in a big yellow header right in the middle of my page.
Thanks for creeping through my Facebook profile pictures and finding one that makes me look somewhat charismatic (an invaluable trait for cult leaders). There are other pictures you could have chosen. Pictures that would be less likely to attract cult-members. At least the type of cult members I am hoping to recruit.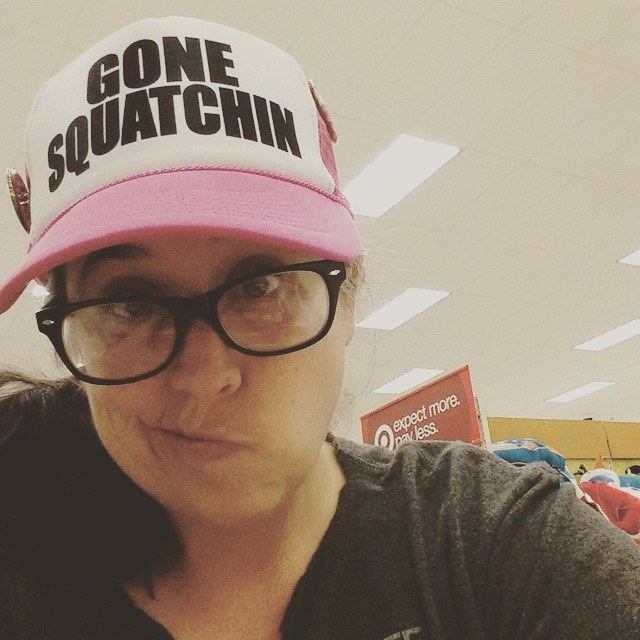 It was a nice touch to leave off Facebook as a source and add the caption, "Setting up: Blogger Jenny Fenlason (pictured) held the first meeting of Ladies Coloring Club in February and was thrilled with the response."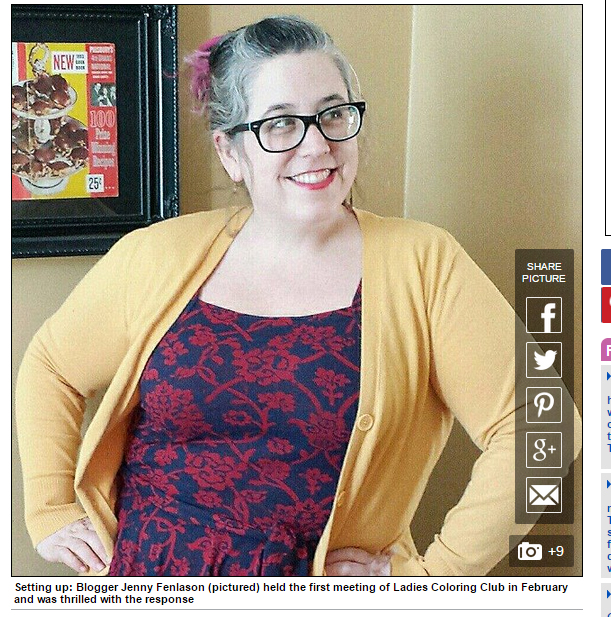 Again, really top notch job implying that you had something to do with me or this picture, and that this is how I get set up for my meetings. I can often be found standing with my hands on my hips, surveying my progress toward worldwide domination, internally uttering something like, "Gee golly and boy howdy, am I pleased with how this cult is coming together." It would have been better if you photoshopped my Kool-Aid grail into the photo. Maybe next time.
Thanks for your inability to read tone—particularly that which leans more tongue and cheek. I know that any time one sees a meme of the Most Interesting Man, it's hard not to take things to 11 on the serious-meter. Most of my regular readers know I often use hyperbolic statements as part of my style, but not knowing that about me, it's much more reasonable to assume a person truly hopes coloring will be a worldwide phenomenon. Although, I suppose there's a little egg on my face here because it appears that it has indeed become quite trendy.
I hear the music playing–the music that ushers people off of the stage when they become too lengthy in their thanks. So, before I get to thanking the Academy, I have two more thanks I'd like to make sure I get in.
Thanks for teaching me about modern journalism (you're not the only teacher in all of this, but your example has been most striking). In all of this I've learned that journalists can (even if it's ethically questionable) take pictures off of your personal Facebook page (and I understand privacy settings–but what about the settings on ethics?). They can twist and take quotes out of context. They can re-hash a story they read somewhere and post it as truth they've discovered and researched. They don't even have to contact you and let you know that they have plastered your name, and face, and misinformation on an largely circulated "news" outlet. Ultimately, I have learned to not trust a blasted thing you read on the internet (something I long suspected but have now confirmed from by this first hand experience). And for sure, anytime I see anything being circulated by Daily Mail, I immediately wonder how many inaccuracies there are.
And, even though this isn't your letter I'd like to add …
Thanks Obama. It was fun to show up in the "news" with you. Thanks for sharing face space with me. I'm sorry that on this particular news day I look happier than you. Consider the hands-on-hip stance for a mood brightener.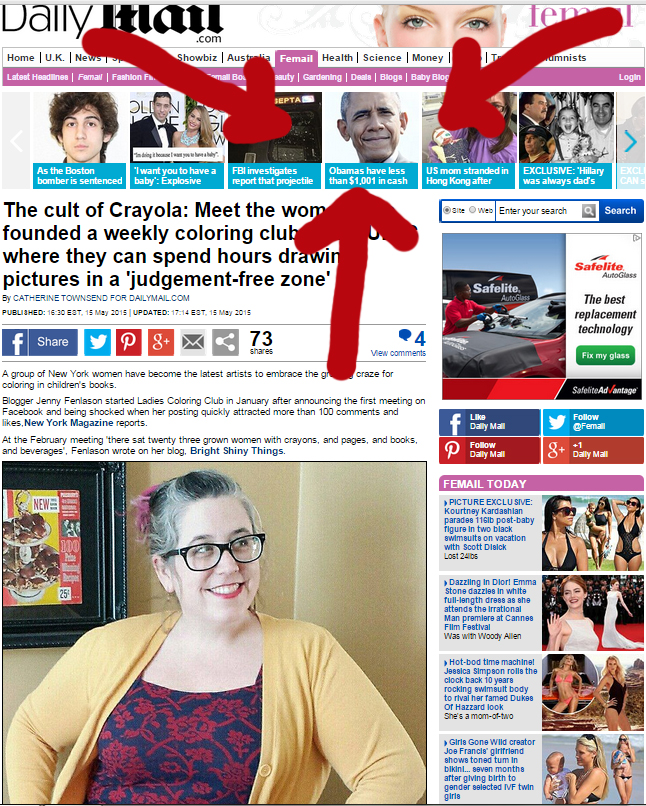 Yours Truly,
Jenny
(Supreme Potentate of the Crayola-Cult)
PS
In all sincerity, I am truly thankful that even with this grossly inaccurate news piece, good things are happening with coloring clubs. I never really imagined a fun and somewhat silly post I wrote would spread like this, and result in so much (any) media coverage. I honestly didn't think it would take off like it has. Right place, right time–I guess. I love connecting with people from all different places in life and something seemingly simple, like coloring, has allowed that to happen. I'm so happy that people are actually getting together and enjoying an encouraging, relaxing time together. There is so much negativity, and busyness in the world—this is refreshing.
That said, I do struggle with misinformation, I like truth. I also like being sassy. So, this letter has been building in me for a quite sometime. I hope you know I am not bitter, and I can find humor in this, but it is wrong to misrepresent people like this. I forgive you Daily Mail—but consider changing your practices. A simple email would have gone a long way.
---
Here is the article this letter was written regarding:
http://www.dailymail.co.uk/femail/article-3083788/The-cult-Crayola-Meet-women-attend-weekly-coloring-club-ADULTS-spend-hours-drawing-pictures-judgement-free-zone.html
Here is the piece by New York Magazine. It was written without my prior knowledge, but is more factual.
http://nymag.com/thecut/2015/05/meet-the-adults-who-love-to-color.html
I only discovered these articles had written been when Google analytics revealed blog traffic coming from them.