Things are close to being out of control…

And never has this meme been so fitting.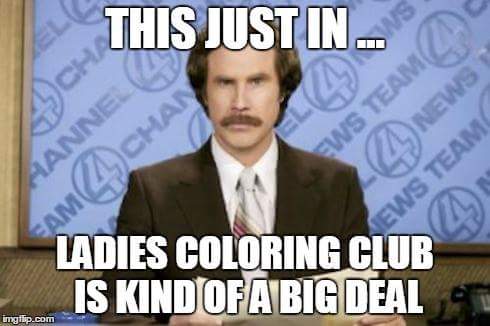 It has been quite month for Bright Shiny Things. I still have sticky notes for recipes hanging on my kitchen cabinet that I still hope to get written up sometime, but I've been distracted.
I've been distracted with the normal things of life, especially as we're getting ready to wrap up school for the year, but, I've also been distracted by coloring books, and crayons. (Insert some cartoonish sound effect of screeching breaks and canned laughter, for lame, un-funny, comedic effect.)
Well, it's not the coloring that's distracting me so much–it's the attention my coloring, or rather my post about, and the group of ladies, who color is getting that's distracting. Original post here: Ladies Love Coloring–How to start a Ladies Coloring Club.
Warning and background…
Be warned I will probably have a few posts dedicated to this topic, but you survived all of the random Elvis stuff so you can probably survive these posts. (Or maybe you'll ignore them–but let's pretend that's not what you do.)
Be also warned this post is a little lengthy–but I hope you find it interesting or, at the very least, mildly amusing.
Now, the reason I intend a few posts about this topic is because there has been a lot of unexpected things happening. I'm going to go into some specifics on a couple of these happenings in follow up posts, but for now, I will focus on how I specifically came to color on the news.
A few weeks back I noticed a bit of a spike in my blog traffic. People were somehow finding my post and sharing it around Facebook. I don't have a blog that generally gets a lot of traffic that way. If something gets around the interwebs it's usually a recipe, and it's usually via Pinterest.
After the Facebook traffic, there came another spike, this time the traffic was coming from nymag.com. I wondered what was going on. A little bit of research lead me to discover New York Magazine was a pretty decent news/media website (I mean they only have a modest 1.4 million Facebook followers). They had found my post, written about it, and I had no clue. Tell me, if you read it, wouldn't you have thought we spoke? Or emailed? Or something? Click here for the article.
Shortly after that, people started sending me an NBC nightly news piece about adult coloring (not including us) and something about it sent me over the edge. I was slightly irked that people were publishing articles about me, without my knowledge–and feeling really, maybe, even taken advantage of because of my accidental trendiness. (I'm ok now, don't think I'm complaining–it just kinda caught me off guard.)
So, I sat down with a cup of coffee at 7 AM. I went to the first news station I could think of. Why? Because they have a morning weather guy that I really like. That was my only criteria for picking them. I found a spot on their website that said news tips. I thought, "well, I didn't think this was news but…"
I proceeded to (very quickly) write the following letter, which was too long for their website form, and required a direct email. It's full of typos, which I left for your pleasure, as well as a bit of attitude–but as it turns out, they wanted to talk to me anyway!
Here's the what I wrote.
---
Dear People Who Decide What's News.
I have never written to a television broadcast station before. Forgive me for breaching any typical news-station-letter-writing protocol. (I'm not even sure where to send this—please forward or delete as you see fit.)
I am writing to you because I (and a group of ladies I know) are apparently, and initially unknowingly, a part of a large trend sweeping the country—or at least dusting corners here and there
In January, on a whim, I mused to my husband, "I bet if I started a club for women to come and color—bring you own books and crayons and just sit and color—people would come." He laughed, scoffed really, and can now regularly be found shaking his head in disbelief. He shakes his head because now adult coloring is being talked about everywhere.
His first head shaking occurred when I was interviewed by NPR about our club. "MPR?" he questioned, "No, NPR!" was my reply. I spoke with NPR for 6 minutes and they witted it down to a few seconds. It can be heard here, on All Things Considered, around the 52 second mark: http://www.npr.org/2015/04/01/396634471/artist-goes-outside-the-lines-with-coloring-books-for-grown-ups
I thought that would be the end of it but I also have a blog. It's not a real blog, meaning, I just do it for me, and for fun. I don't network, I don't sell ads, or do those typical blogger things, but I wrote about our little group on it. Last week, somehow, my post was picked up (without my knowledge) by New York Magazine—New York Magazine! Then the LA times linked to that article, and there continues to be news pieces, national news pieces, about adults who color.
You can find these pieces at these sites: http://nymag.com/thecut/2015/05/meet-the-adults-who-love-to-color.html and http://www.latimes.com/books/jacketcopy/la-et-jc-adult-coloring-books-20150507-story.html
My original blog post is here: http://fenlason.net/BrightShinyThings/ladies-love-coloring-how-to-start-a-coloring-club
Being a passionate lover of Minnesota, it seems a shame to me that the national news is getting to tell the story, of this local group of unassuming trendsetters. If you would like to learn more about our club, and this craziness, I'd be happy to talk to you.
If anyone would like to attend our club you'd be welcome.
There are coloring club rules though: it's for Ladies, and you have to color at coloring club, but how and what you color is up to you (inside the lines, outside—we don't judge). If you ever stop by some of our members have vowed to wear their nicest yoga pants.
We don't claim to have started this trend, it was purely coincidental. We have spun off and inspired a few other clubs to start, and it has been great fun to be a part of what's happening.
Truth be told I don't watch the news like I used to—my lifestyle doesn't allow for it often.
So if you have covered this, I missed it, and you my disregard these ramblings.
Sincerely,
Jenny Fenlason
Founding Chair-Color-er of the Ladies Coloring Club

---

They contacted me that same afternoon. They wanted to feature us that night but we couldn't swing it, so after some going back and forth we worked it out for them do a story on us and visit our club a week later. You can see the story here.
Since my first contact with the news, another media outlet picked us up–only it's a tabloid, and it's all wrong, but it's given me great fodder for an open letter to them (one of the follow-up). And then, after the story aired, it's been shared all over the place. It's a little crazy.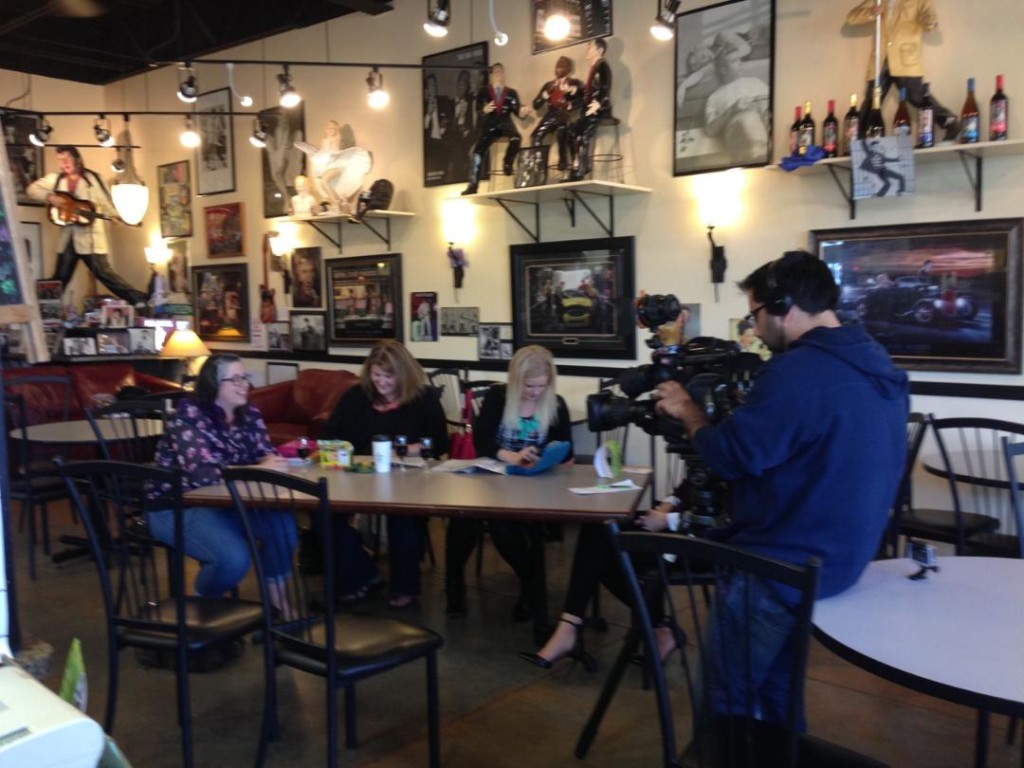 For the record, this is the only news outlet I have contacted personally, besides the short blurb on NPR after I responded to their call for adults who color. Anywhere else you read about me–is not from me seeking it out, and at this point, most of them are not without my prior knowledge (other blogs linking to me are cool–that's a blogger thing, that's different).
A lot of good things have come out of the craziness. I'm making new connections and I love connecting with people. So many women have contacted me about our club, or starting their own that we set up a Ladies Coloring Club Facebook page to help people all over connect and color. 🙂
And, I've also been given some brand new coloring books that I'll tell you about in another follow-up post. Maybe even give one away … I'll work on it.
I think that's it for now.
I warned you this was long. Sorry about that. Just know, this is only a fraction of the things that have been going on in and outside of my head with this. (Translation: It could be worse.)
Jenny