Our Adoption Journey
This is a slight departure from some of my normal content—and it's a bit long.
For quite some time I've wanted to write and inform you about my family's heart for adoption. For the past year we've been working toward adopting children into our family. We went into the process really open—simply wanting to love and care for whoever God had for us. We finalized our first adoption two weeks ago. The child we adopted was not who we expected, but he was absolutely who we were supposed to have–our son and who we love so much.
He was born in early October, and this past Friday I had the privilege of speaking at his memorial service. He only lived for 30 days, but was loved immensely. Below the photo you will find my son's story through the words I shared at his service.
I am posting this with the intent of providing hope and encouragement. To those considering adoption, in any form, I especially hope you find this meaningful. To those who have carried, or parented a child with this condition, or with other special needs, I hope you are also encouraged and reminded that no matter how long, or short, or complicated, or difficult your child's life is—your child is beautiful, they have value, and purpose, and provide unexpected blessings.
I have changed a few details regarding dates, and locations, for privacy sake.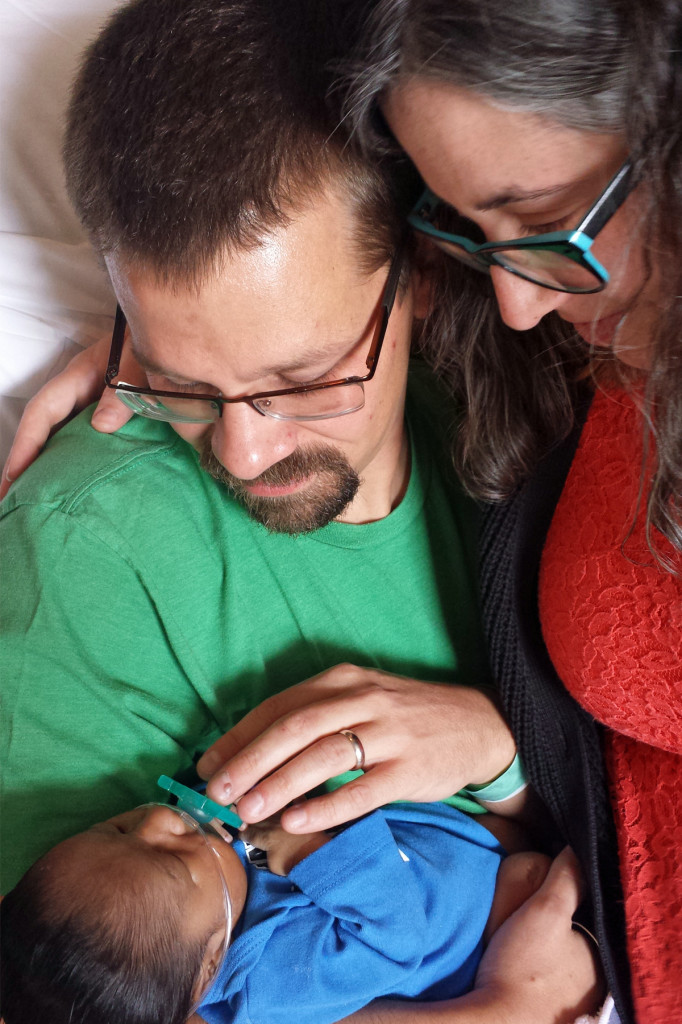 Thank you so much for being a part of Zeke's life, and our lives, and for coming to celebrate him today.
I thought I would begin by giving you a brief time-line of how our life began with Zeke—since everything happened to rapidly, it would be nice to make sure we're all on the same page of his story. And then I'll move into some of our personal feelings and experiences with our precious third son.
In late August we were informed about a situation—baby boy, down syndrome, due early November. Our agency here in Minnesota had been contacted by a referral agency in another state, who had been contacted by a Lawyer in different state, who had been called by Zeke's birth-mother. God used quite a chain of contacts to get us connected with Zeke.
We felt a pull toward the situation and decided pursue it by asking to have our profile shown. Five days late we were matched for this baby boy, due in early November. We worked through all the paperwork and details while I spent the next couple of weeks connecting with Zeke's birth mother, via phone, and text. She was sweet and I enjoyed getting to know her.
In late September we received a phone call that the results of her follow up amniocentesis had come back. The baby did not have Down Syndrome, a fact we had begun to suspect based on some medical documents and the obsessive nature with which I sometimes do research. From our research it seemed like he was either going to be born with minimal complications or he was going to have a much more severe chromosomal condition.
That phone call told us that Zeke would be born with Trisomy 13, while we weren't shocked, there were many emotions and a lot of tears. They told us they understood it could be a "game changer" and that we wouldn't have continue with the match, they said they'd understand because it's "not what we signed up for."
I asked for a little time for us to do some more research, to figure some things out, and that we'd get back to them by the end of the week. But we didn't need till the end of the week to make our decision. When Josh came home from work that day it only took us a few minutes to decide.
You see, when we started our adoption journey last winter, we walked into it with our hands open before the Lord—asking God, who do you have for our family? And this baby, our little Zeke, was who God had. He had brought him to us, we were his parents, and we were not going to leave him, or his birth-mother.
That phone call came 12 days before he was born. That phone call solidified what we thought we knew—we were his forever family. And after that point the love and concern we felt for our unborn son became even more real, and deep.
One Sunday, 5 weeks before his due date my phone rang as we were getting ready to leave for church. I let it go to voice mail. No message. But then the house phone rang and I decided to pick up. Zeke's birth-mom was in labor, she was heading to the hospital. Josh took the boys to church, and I decided to start packing. I love my boys—and Josh is very good at packing—but having them out of the house seemed the most efficient way to deal with the situation.
We considered flying but fights weren't going to get us there much earlier, plus we'd be stuck without a car, and we didn't know how long we'd stay. We understood that we may very well be going just to be by his side in death, but we hoped our journey would last a bit longer.
Somewhere in Wisconsin she called to tell us he was born. Her labor had gone very quickly. I then spoke to the nurse—all she really said to me was, he's alive, call the NICU in an hour, and we kept driving through the night. We arrived at his side about 18 hours after his birth. We felt a relief that we had made it, and were overwhelmed at the sight of him. There were many tears those first few days—tears from a variety emotions, and fatigue.
Later the first nurse we met, the one that had him that first day, told me that she couldn't believe the connection we had with him. She looked at me and could immediately tell that I was his mother—that we were his parents—she said it was amazing. And it was. We were also surprised by the instantaneous connection we had with him.
She also told me she later had to remove herself from his bedside because she was overcome with emotion, and cried out to the Lord, asking him to just give us some time with Zeke. God heard her prayer.
The first few days with Zeke were challenging, they didn't think he'd make it through the first 24 hours, but he did. He got stronger, he improved on his oxygen requirements. There were legal issues to navigate with the hospital, but once things were sorted out we were able to concentrate our efforts on caring for Zeke.
On his third day of life, Josh's birthday, he was strong enough to tolerate us holding him. We had prayed that he would at least live through that day, but being able to hold him was an extra gift. God always does abundantly more than we could ever ask or imagine. From that day on we held him as much as possible. We could see that our holding Zeke had a positive impact on him.
There was a monitor hanging near Zeke's bed. It showed us his heart rate, his respiratory rate, and the percentage of oxygen in his blood. Those numbers were best when we held him. If he was fussy we could calm him by holding him, patting his little behind, or rubbing his head.
His respiratory rate would slow—showing he was calmed and relaxed, his heart would beat steadily, his oxygen number often caused a warning alarm to go off—but a good one—one indicating his blood oxygen was high and they could wean him down a little. He would sleep peacefully in our arms. We often held him for 2-3 hours at a time. Multiple times a day.
Besides holding to him we read to him—he was well on his was to becoming a Biblical scholar. Josh was able to read him an entire children's bible as well as significant portions of the New Testament and Psalms from a grown-up bible—ESV even.
Ezekiel was sweet, but strong. He was a fighter. And his hair. His hair was amazing. Mostly, he wore it slicked back. It was long enough to touch his shoulders. He had long, and strong fingers that he used to grip us. When Zeke had his mind made up to hold on to you, it was hard to pull away. His eyes were dark and serious. But when he looked us, it was as if he was studying our faces. We didn't see his eyes often, but with so many things in Zeke's life—the brief moments we did see them were incredibly rich.
Everyone fell in love with Zeke. He was very popular, and hospital workers would often stop by to check on him. Everyone knew who he was. Even our Doctor fell in love—he called Zeke a charmer—he was. And everyone was concerned when he took a turn for the worse his last few days. Many nurses and doctors were choked up, and wiped away tears along with us, when we realized nothing more could be done for him–when we all realized he had stopped responding to treatment.
The week before Zeke died everything was in motion to approve him for a transfer fight to Minneapolis, but his rapid decline changed that. One Saturday Zeke was having a particularly hard time, and I walked for my morning visit with him through the snow. For your information November snow is unheard of where we were—but it was clear to me that if Zeke wasn't going to make it to Minnesota, God would bring a bit of Minnesota to him. We did apologize to some of the hospital staff—claiming full responsibility for the cold.
Through most of Zeke's life we were technically his legal custodians—we prayed and prayed that he would live long enough for us to finalize the adoption. We knew, everyone knew, that he was our son, but having it legally completed would have been nice—not necessary but nice.
To everyone's surprise, well everyone but the Lord's, the courts moved quickly—things opened up—and they allowed us to finalize. Typically it's a 90 day wait, the shortest our lawyer had heard of it being done was 30 days, we did it on day 29. That was a Monday and on Tuesday we cradled Zeke as he left this earth.
Our last moments with him were so special. We spent time together eating dum-dums—Zeke had a sweet tooth, and was able to have them from to time to time to help with his sucking and eating. His brothers read Good Night Moon to him, like they had almost every day, and they held him for the first time.
Josh and I sat with him, comforting him, holding him, kissing his head, and cheeks, and singing to him until he was transferred from the arms of his earthly father to the arms of his heavenly father.
Every bit of Zeke's life was beautiful and we were blessed to be able to adapt our ordinary life to meet the needs of his extraordinarily beautiful life. We made a schedule, and a life, 1200 miles from home. It all worked amazingly well. We didn't plan, we didn't think, we just did it—and that's not like us. We were forced to walk the Lord's faithfulness and trust his mercies would indeed be new every morning–that he would carry us through each new turn of events.
On that September day it was as if God said to us—I have this child for you, will you take him? It won't be easy, but he is a gift if you will accept it—and we did. And when we said yes, it was as if the Lord said great, I'm glad you said yes—now try to keep up, and watch me work.
Zeke's Trisomy 13, was a huge part his life, and complications from it lead to his death. I think most of you know by now, that if babies with his condition even make it to birth, their lives are often short, and filled with many medical complications. Of course we hopped that Zeke would beat the odds, and he did beat a few. He made it past the first couple of days, when they didn't think he would. He made it through a surgery and was successful at coming off of a ventilator. We hoped that he would somehow throw the curve, or that he'd at least be in that 5-10% who make it to their first birthday, but we didn't expect it, and that was ok.
Trisomy 13 was a huge part of Zeke but it didn't define who he was.
Ezekiel Timothy was our son who lived a full and incredible life. Being chosen to parent him was an amazing honor. We were privileged to spend every day of his rich little life by his side, pouring a lifetime of love into one intense month.
We are thankful for the love and support you all showed and continue to show us. So many people have thanked us, or informed us on how much this as impacted them—we have a hard time responding to that. On the one hand it's humbling and overwhelming, but on the other hand, what do we say? You're welcome? Thank you?
When really, we are the ones who feel so honored and impacted at being given the chance to know and love Zeke. And really, we were just doing what any parent would do—we were taking care of our child.
It's a great opportunity to stand before you and tell you of our wonderful little boy—to give him the honor, and the memorial that he deserves. We are proud of his strength and so thankful for every moment we had with him.
I think our big boys had some good thoughts to sum up our life with Ezekiel—one one occasion, about mid-way through our journey, our 8 year old stated, "We may have Zeke with us for two days, or a million days, but no matter what I'm happy we can be his family."
And a few days before he died my 6 year old prayed, "Dear God, please let Zeke live longer, but if he can't, thank you for letting him live longer than they thought he would."
Thank you Lord for every second we had with your wonderfully made Ezekiel Timothy—our lives were all made better because of him.