Ladies Love Coloring! (How to Start a Coloring Club)
UPDATE: Hi! And wow! This is post really getting around. I've set up a Facebook page specifically for our coloring clubs, and others who want to get started, or want to connect with like minded people. Check it out here: http://www.facebook.com/LadiesColoringClub
And now the post you were looking for …
"She posted on Facebook once and you won't believe what happened next…"
"Ladies Google 'adult coloring books' and it's not what you think…"
"Grown women enter a local coffee shop and no one expected what happened next…"
I'd never stoop to the level of click-bait lines to promote a post, but if I did it would be one of those. And I was really tempted to with this post because, at the very least, some moderately remarkable happened recently.
Shortly after Christmas a friend posted a picture of a coloring book for grown-ups. Seeing it made me think about how much I enjoy coloring. My boys don't really enjoy it–they draw all kinds of pictures, and battle plans, but never really sit down with a book and crayons, so I don't get much of a chance to color.
Then this little idea popped into my head, and I vocalized it to my husband, "I should start a Ladies Coloring Club!"
I don't recall what he said, if anything, but I do recall that his expression was one of incredulity. Undeterred, I continued.
"We bring our own books and crayons–BYOB and C– to a coffee shop and just sit and color. I think it's brilliant. People will feel relaxed, they don't have to make awkward eye contact, they can just color and relax and chat."
And then he said something to the effect of, "You think people would really come to that?"
Now, before I tell you the facts of what transpired next, you must know that if, at any point, I am challenged on an idea, I will in fact fight, and try even harder to prove that I am indeed correct, and brilliant, or at least not completely crazy. So, not only was I excited about my idea, I was dead set on proving him wrong.
And a funny thing happened. I didn't need to fight for my idea very much. I threw out a vague post on Facebook about the idea.

People immediately responded with likes and comments–over 40 of each. Don't tell my husband, but even I was a little surprised by the response.
Then I set a date and "advertised it".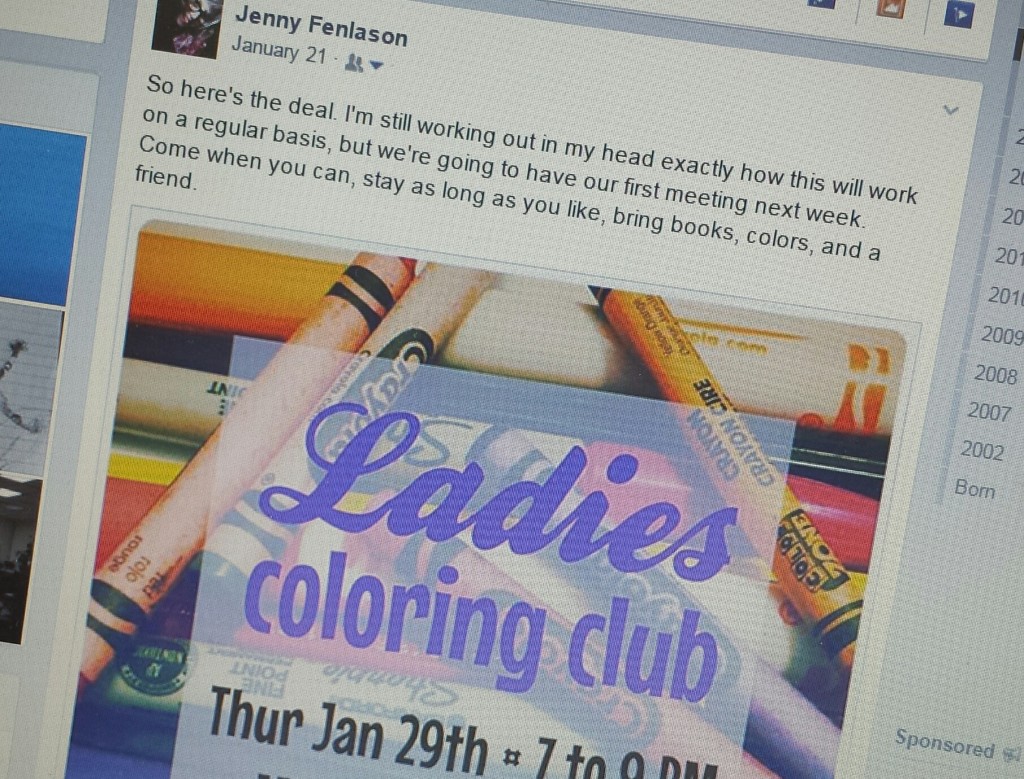 Then I had about 11 people show up for the first meeting, we posted a group-selfie, and the response was impressive. The comments, the likes, the people wanting to join. Over 100 people were intrigued by this club.
That was January, and we just had our February meeting where 23 people showed up. We more than doubled in attendance and not everyone from the first meeting could make it.(This photo was before everyone had arrived.)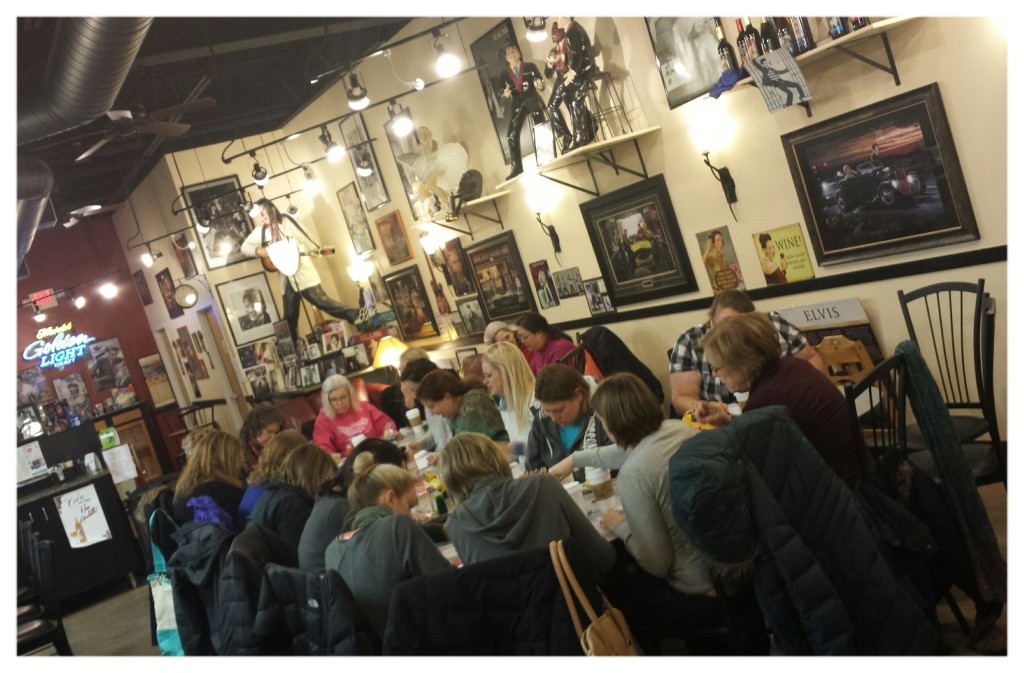 There sat twenty three grown women with crayons, and pages, and books, and beverages. Some colored simple childlike pictures, some did elaborate works, some free handed. It was fantastic. Everything I've dreamed and more.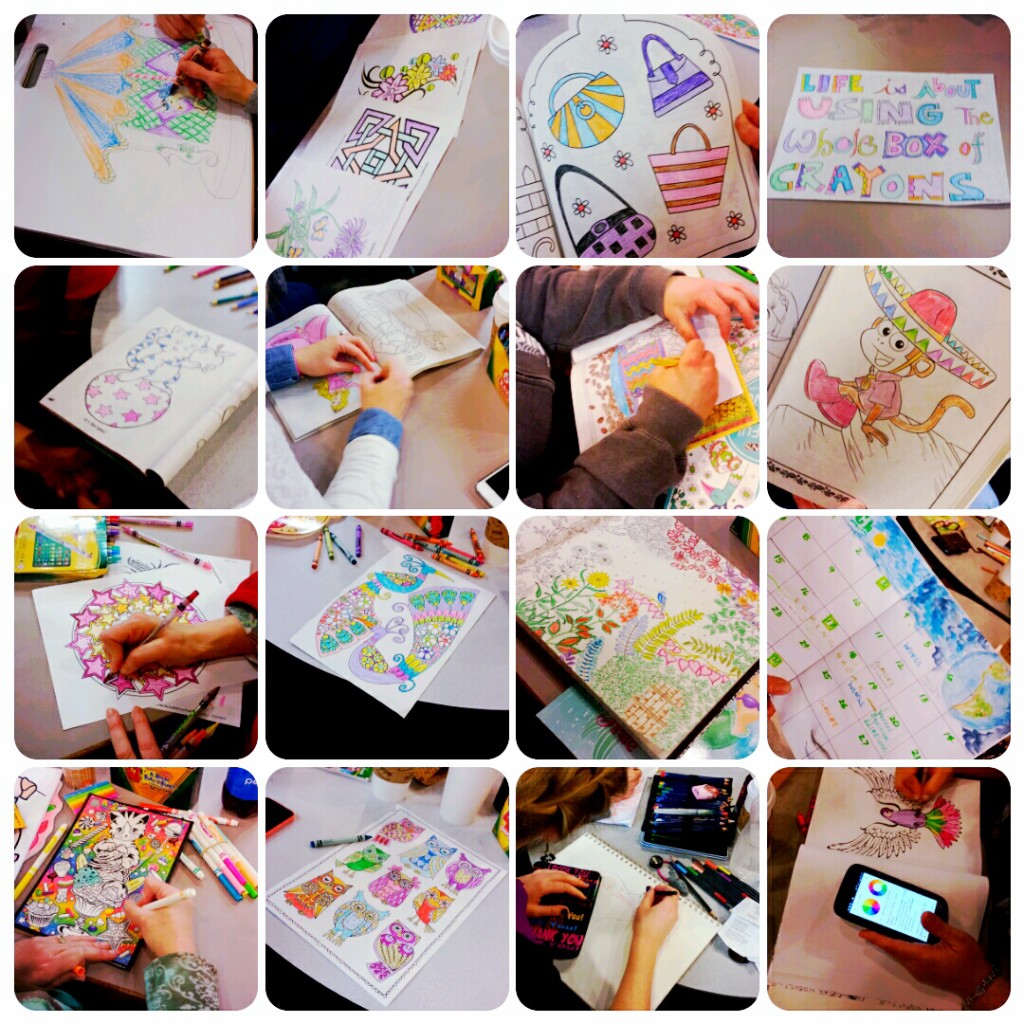 I didn't intend to blog about this when we started, but now I've had a few different people say they'd like to start coloring clubs where they live and wouldn't it be great if Ladies Coloring Club became a worldwide phenomenon? We can all be connected with the hashtag #ladiescoloringclub (that's what I've been using). Imagine it! Women, worldwide, united in coloring.
I'm encouraging you to start a chapter, it's simple and here are some tips.
1. Find a casual spot. I prefer a locally run coffee shop, but that's just me.
2. Pick a time. Evenings (7-9) seems to work best for my club. Once a month.
3. Invite random ladies. Anyone and everyone should be welcome. A few Facebook posts was all it took for me. We started a Facebook group after the first meeting so people could invite others to join, and to make sure no one misses a post about meetings.
4. Strive to keep coloring club a judgment free zone. Inside the lines, outside the lines, it's not how or what you color–it's that you color. Maybe someone just needs to scribble as a way to release stress, and that's ok too.
5. Create memes to remind people of upcoming meetings. Ok, that's not a necessary step, but fun.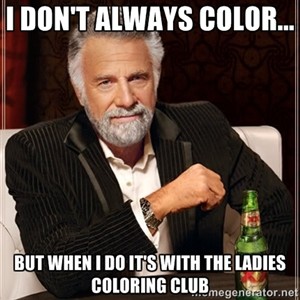 What do you think?
Does Ladies Coloring Club sound like something you'd want to attend or start? If so, do it! It's super easy and low key. If you do start one, and if you post anything on social media consider using our hashtag #ladiescoloringclub so we can see our fellow club members.
Oh, and in case you're wondering, my husband was surprised by the turn out. After our last meeting he said, "I couldn't get 23 guys to sit and do that if I offered free beer!" but I guess that just proves what I suspected–ladies love coloring.
Be proud of your coloring ladies!
Jenny