How to Host a Jane Austen Movie Night
For the past three years…
Around the time when winter seems to drag on, I have a little party. I say little because due to the nature of the party I cannot invite more than 10 people (which makes me sad and stresses me out a bit.)
This annual soiree focuses on the showing of a film based off of a Jane Austen novel. And since a lot of people I know are into Jane Austen, I thought I'd share a few tips and ideas for you to host your own Jane Austen Movie Night.
Tip One: Make sure your guests are comfortable.
We watch the movie in the basement family room in my home. I have some comfy over-sized furniture, which is great if we have cuddly couples over, but make it a little tougher for seating individuals. No one wants to sit in a metal folding chair for 5 hours. To make as much comfy seating as possible I bring down some extra furniture from the living room. I also wash all of our TV watching blankets so they are fresh and cozy. I also only invite about ten people so we're not too crowded.
This is my view, from right by the electric fire (I get cold.)
Tip Two: Set the mood.
I like to get my children out of the house, since many of my guests are moms in need of a kid-free evening. I also light some oil lamps and play some era appropriate music while people arrive and get food. Classical Sensibilities is a good choice for music.
Tip Three: Create a thematic menu.
This is probably my favorite part because I like to cook, and I like themes. I create a menu that is inspired by elements, such as people and places, from the books. There's nothing terribly English about the menu because frankly, I've yet to find much English food (apart from fish and chips and ale) that I really enjoy. (I hope that doesn't offend my favorite Elvis.)
This year I chose to show Pride and Prejudice (the 1995 mini series) so the menu is designed to reflect that. The menu probably amuses me more than the guests but I thought I would share it, in case you would like to use it for your Jane Austen night. (Feel free to download it.)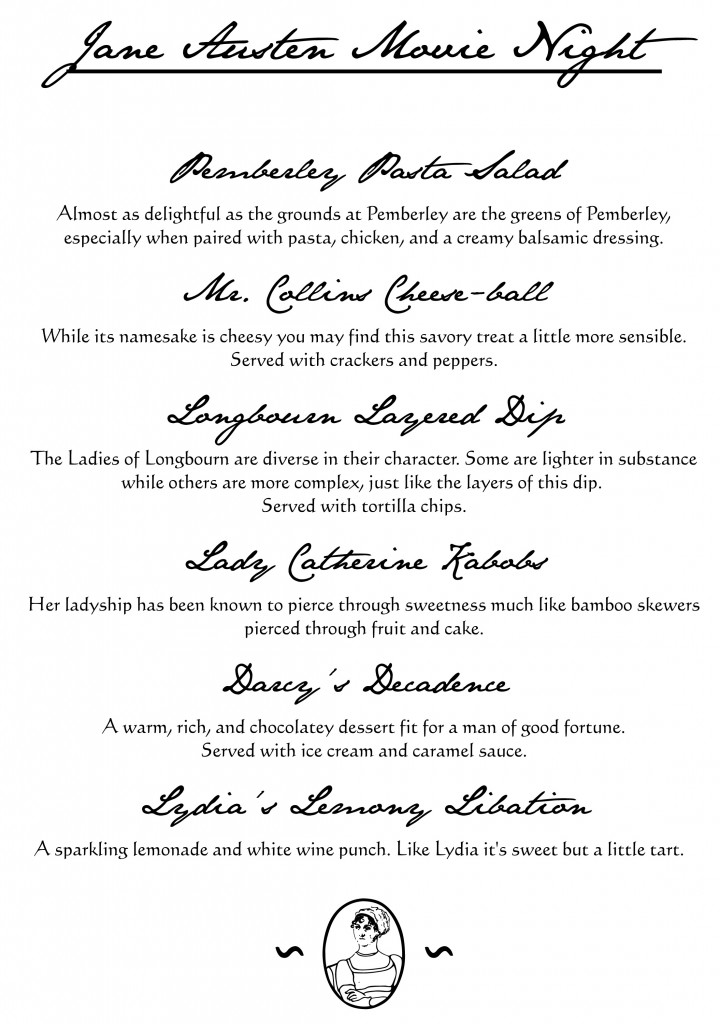 Here's the spread.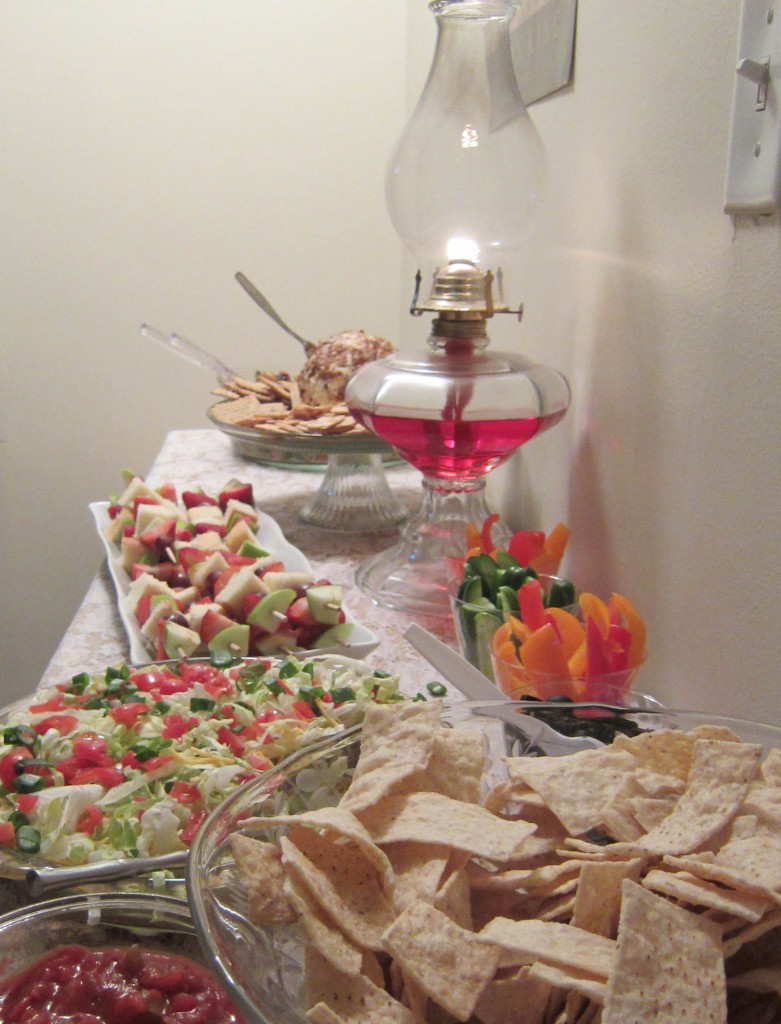 And here are the recipes for all of the menu items.
The Pemberley Pasta Salad was this recipe of mine.
For the Mr. Collins Cheese-ball I used this recipe. It my first time making a cheese ball but it was very easy and tasty.
The Longburn Layered Dip was mostly this recipe with just a few minor tweaks.
For the Lady Cathrine Kabobs I used strawberries, grapes and green apples alongside pound cake.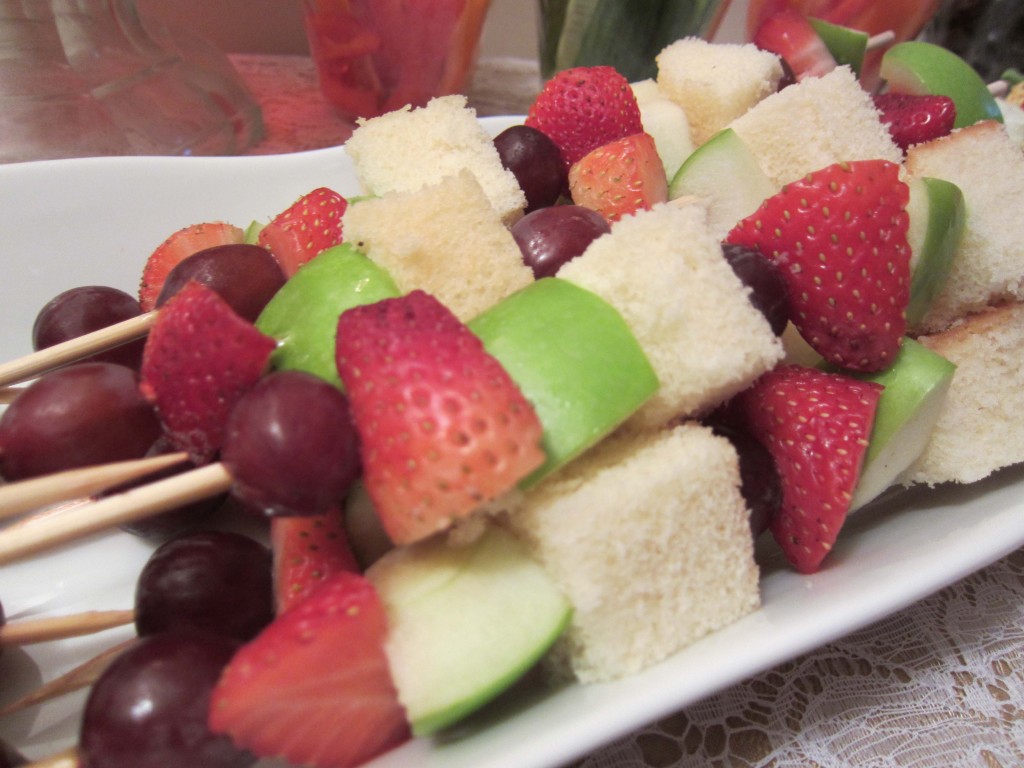 Darcy's Decadence was a new invention for the party. I wanted a caramel-y tasting chocolate cake and I wanted to serve it warm, from the slow cooker. Here's how you make it. (I am also titling it Slow Cooker Rolo Cake.)
Slow Cooker Rolo Cake
Ingredients
2 boxes of devil's food cake mix
4 eggs
1 cup of brewed coffee
1 can of sweetened condensed milk (14 ounces)
1 Bag of mini Rolos (8 ounces)
Directions
In a large mixing bowl combine cake mix, eggs, coffee and sweetened condensed milk.
Spray the inside of a 6 quart slow cooker with non-stick cooking spray.
Place half of the cake batter in the slow cooker. Press half of the Rolos into the batter.
Repeat with the remaining batter and Rolos.
Cook on low for four hours or until cake is set. Serve warm with ice cream and caramel sauce.

Lydia's Lemony Libation was also an invention for the party. It can also be called…
Sparkling Lemonade Punch
Ingredients
1 bottle of Pinot Grigio (1.5 liters)
2 cans frozen lemonade concentrate, thawed
2 liters Sprite or other lemon lime soda
Ice cubes as desired
Fresh lemon slices as desired
Directions
Combine wine and lemonade in a large pitcher or punch bowl with ice and lemon slices. Stir in soda right before serving. Use fresh lemon slices for a garnish.
For a non-alcoholic version simply omit the wine.

This makes a large batch, you could easily cut it in half for a summer BBQ or dinner party. It's very refreshing. I like to mix the wine and lemonade into a not-so-pretty pitcher, then transfer it into a pretty glass pitcher and add soda before serving. If you're doing it this way, and not mixing it all at once, aim to do about half of each.
****NEW INFO**** I recently made this and put these fun ice cubes in it. Check out this companion post. 🙂
And there you have it!
Almost everything you need for a delightfully nerdy evening.
So, who's planning a Jane Austen party?
Enjoy!
Jenny