HOLY COW! I'm here! I'm blogging! It's astounding! (Maybe not the content, but the fact that I'm doing it at all.)
Bright Shiny Things has been on hiatus because we've had some big life changes here. About 6 months ago we were matched for another adoption placement, actually two. We were blessed to have 1 and 3 year old siblings join our family. And that's really probably all I need to say. The hiatus is probably pretty self explanatory.
They are a delight, we love them, they are busy, and when you add homeschooling a 2nd and 4th Grader to the mix–it's even more clear why this blog has taken a back burner.
But today. Today, I am going to attempt a post. I don't know how long it will be before I have another one. I can't even guarantee I will finish this one. It's not that I don't have ideas, it's the time to sit down and write that seems to escape me.
I am writing this because I have a problem with vegetables. I love salad. I love baby carrots. I enjoy almost all raw vegetables. However, there aren't a lot of cooked vegetables that I enjoy, and this has seemed to transfer to my children. In case you are unaware, it gets a little chilly here in Minnesota during the winter, and when it's chilly I have a harder time enjoying salad and raw, cold, vegetables.
Enter spaghetti squash: a produce selection I have heard much about, but never made myself. So I decided to give it a whirl, and bake it into a lasagna type dish. And you know what? It turned out delicious, and as a bonus all of the solid food eaters in my house love it!
Now, let's see if I remember how to write a recipe …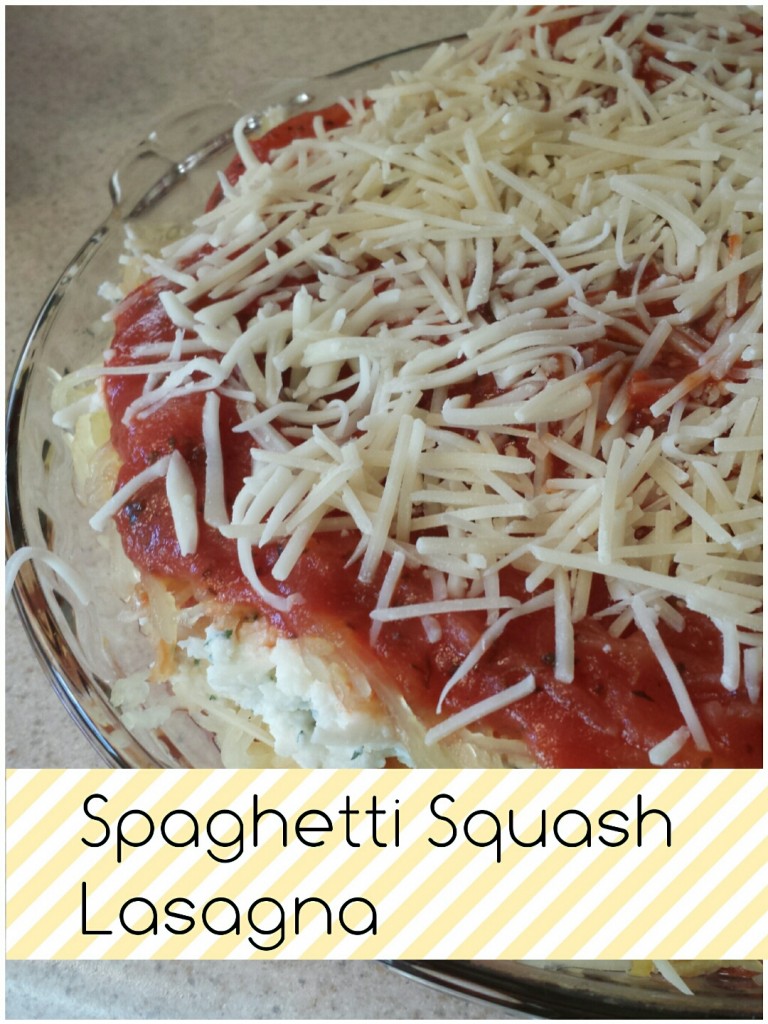 Ingredients
1 Spaghetti Squash
15 oz of Ricotta Cheese (I use low-fat)
2 1/2 cups Shredded Mozzarella Cheese (divided)
1 cup Shredded Parmesan cheese (divided)
1 clove of garlic, minced
1 tablespoon dried parsley
a dash or two of nutmeg
1 1/2 cups spaghetti sauce
Directions
Cut squash in half length wise and scoop out the seeds. Bake, cut side down, on a cookie sheet at 400 degrees for 30-45 minutes, or until the skin is easily pierced.
Allow to cool, and carefully scraping a fork across the squash, create "noodles".
In a medium mixing bowl combine ricotta, garlic, parsley, and nutmeg. Add 2 cups of shredded mozzarella and 1/2 cup shredded Parmesan.
Place approximately 1/4 cup of sauce in the bottom of a large pie plate. Layer with approximately 1/4 of the squash, and 1/2 cup of the cheese mixture.
Repeat layering and place 1/2 cup of mozzarella and 1/2 cups of Parmesan cheeses on top of the final sauce layer. The layers should be like this: sauce, squash cheese, sauce, squash, cheese, sauce, squash, cheese, sauce, squash, cheese, sauce, shredded cheeses
Bake at 350 for 30 minutes or until hot, bubbly, and slightly browned on top.
Tips, Tid Bits, and Photos
I didn't want to do a whole write up about how to cook spaghetti squash, so if you don't know how, and my directions aren't clear enough, here is a nice tutorial.
And, if you're short on time (like I often am) you can cook the a day or two before and put it in the fridge. I didn't even shred it up until right before I assembled the dish–just cooked it and threw it in a Ziploc bag.
Whenever I make lasagna, or stuffed noodles, I add nutmeg to my ricotta. I don't know why. I think I decided it was in a lasagna I ate once and I liked it so I always add it because it tastes good.  See the brownish stuff? That's how much nutmeg I added on this day.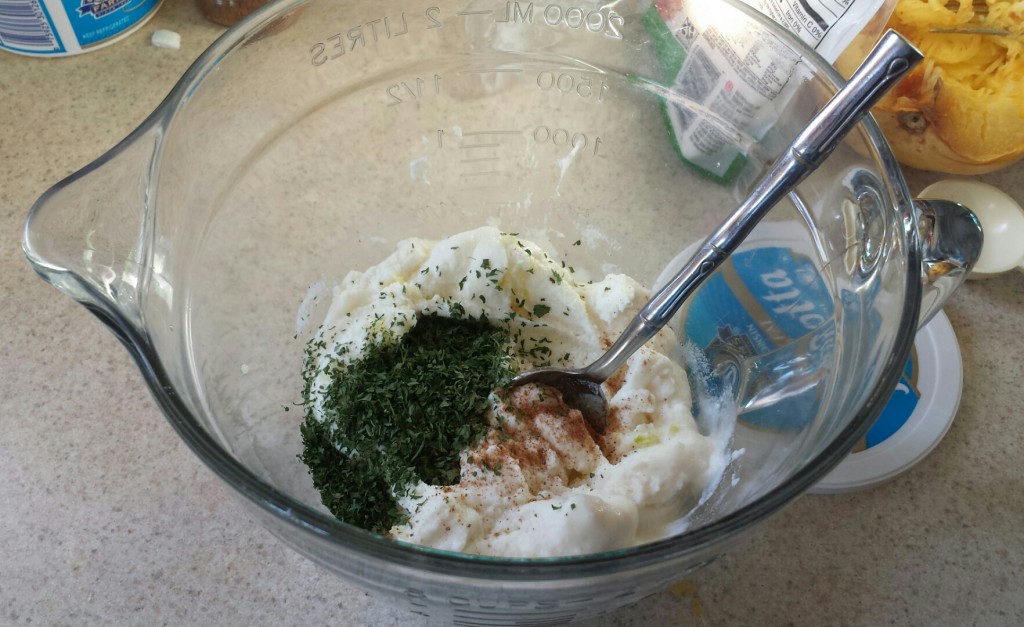 I like to set up a little, neat assembly line, like this.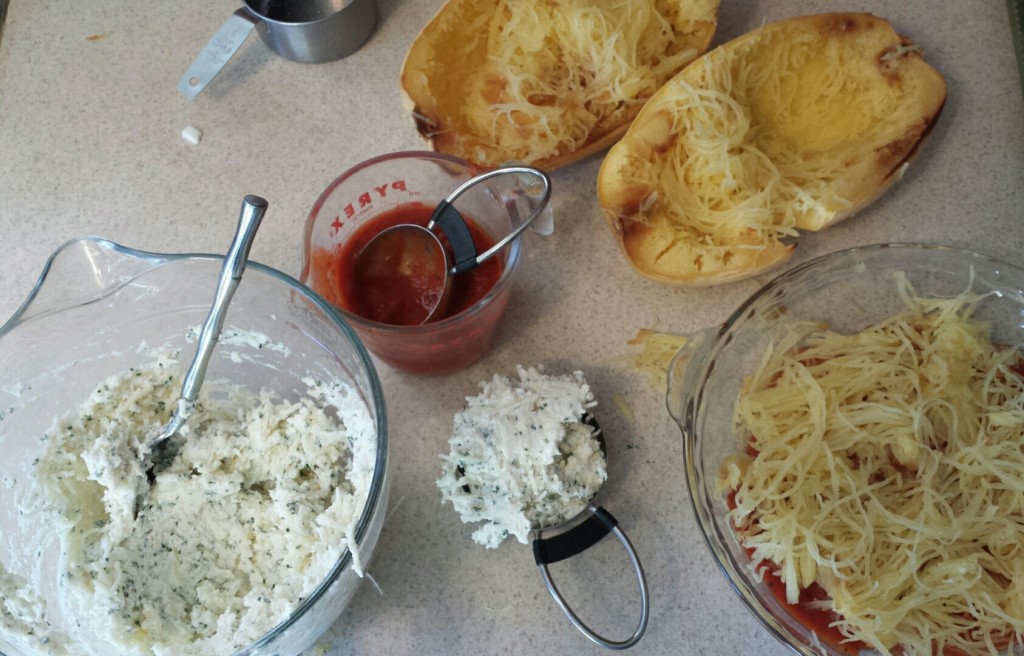 You can layer it however you want, just is just how I like to do it. It's not an exact science, and the measurements aren't precise.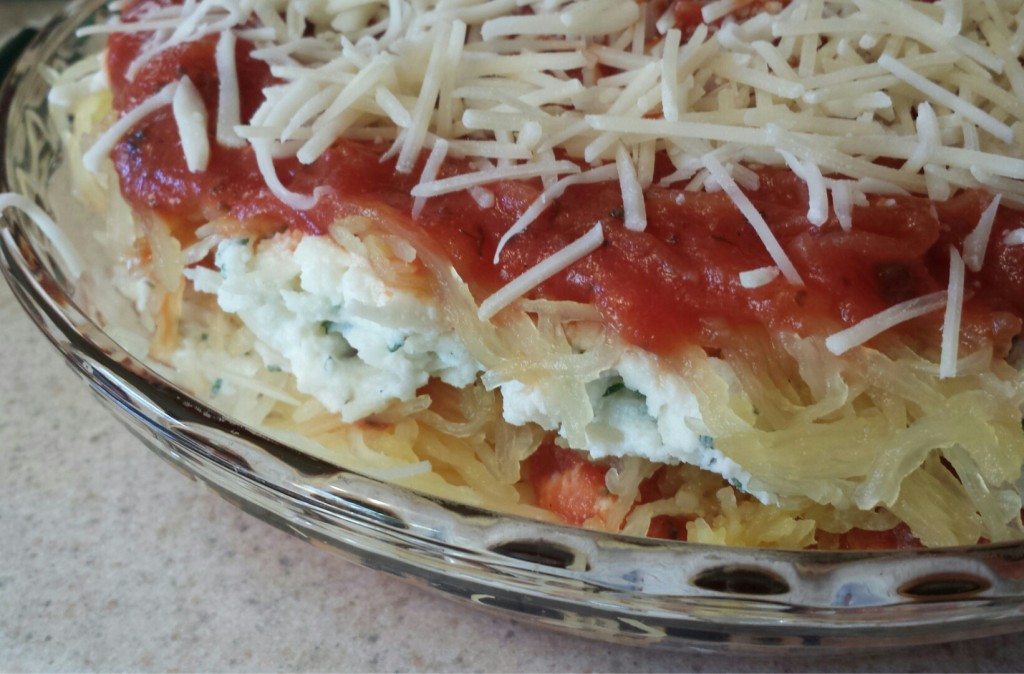 I assembled this in the morning, and kept it in the fridge until it was closer to supper for baking. So, this is a great recipe to do in steps or make ahead.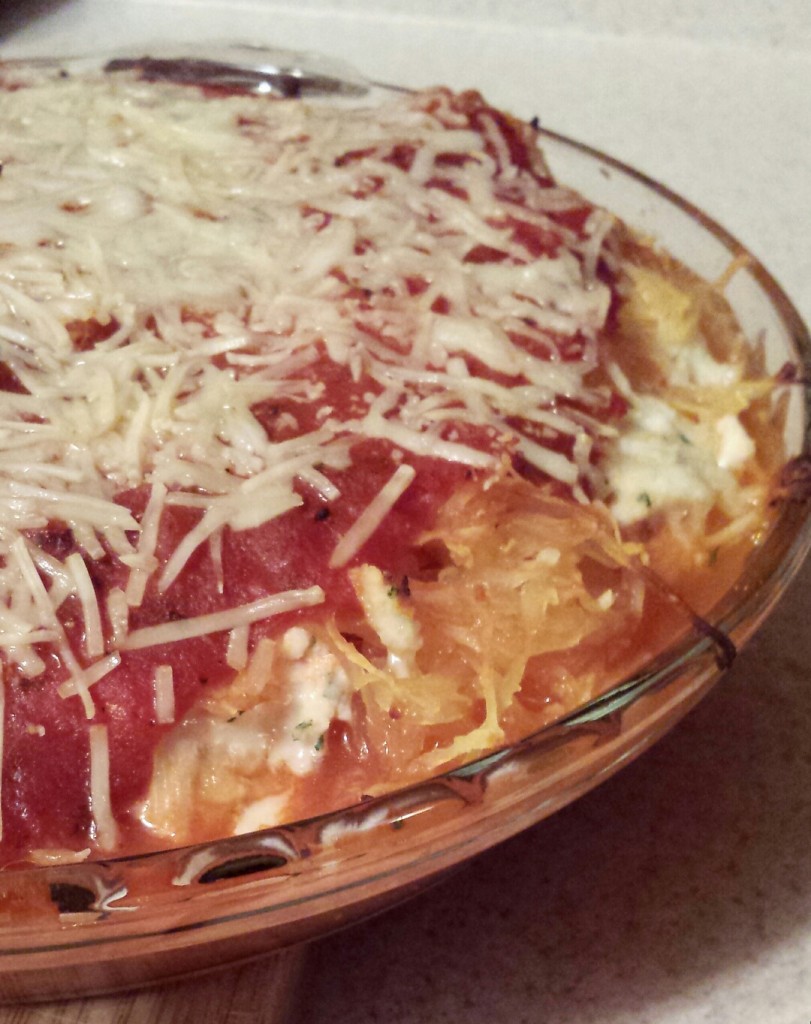 I often serve it with garlic bread, and salad, even though I kind of implied it wasn't salad weather anymore. Sorry to send mixed messages.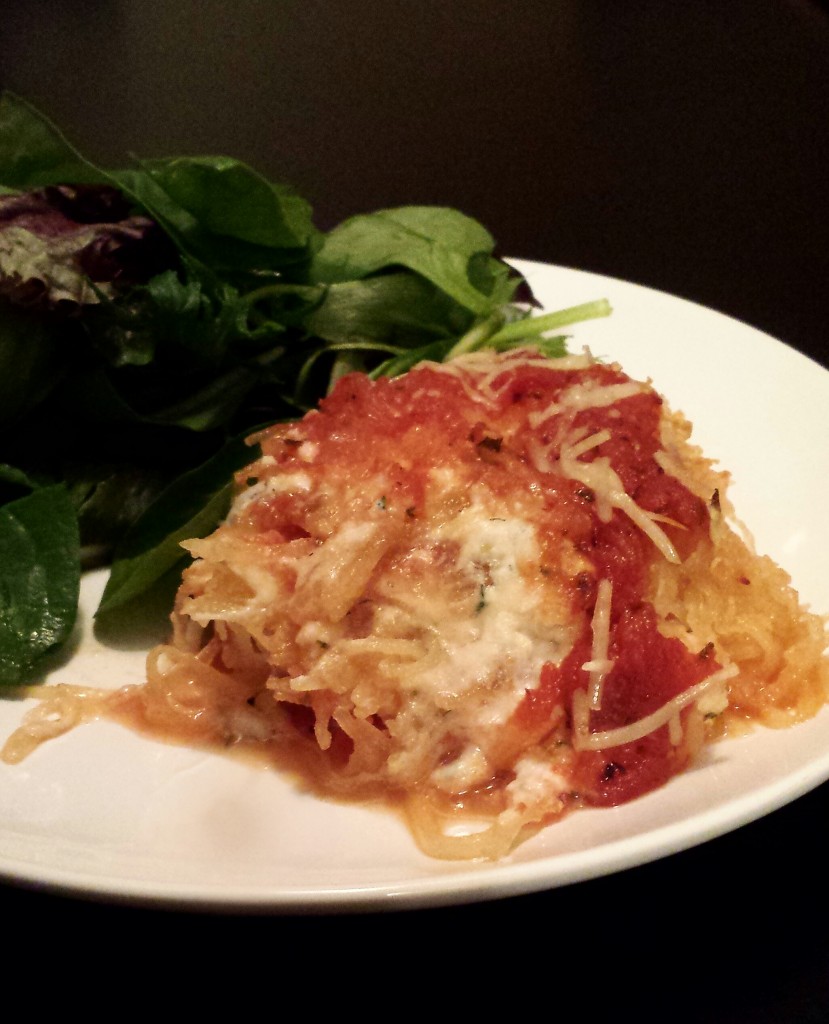 So there you are and I feel SUPER accomplished for getting this out. I have so many things I'd like to write about … we'll see what I can get out in the next year.
Until we meet again,
Jenny